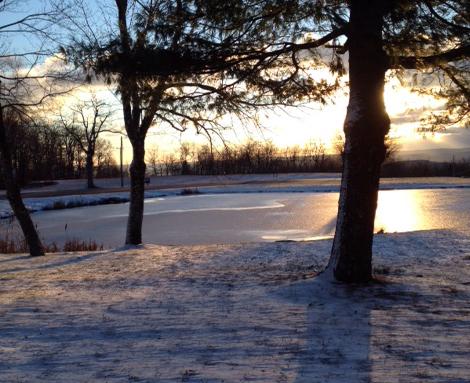 The first statewide nor'easter of the season soaked the Garden State on Tuesday and Wednesday the 26th-27th. Heavy rain, some northwest freezing rain, and strong winds contributed to holiday travel woes, though fortunately the worst conditions occurred during the overnight hours of Tuesday into Wednesday. The excellent National Weather Service forecasts had everyone aware of the potential storm days in advance, which helped in planning and preparation.
An added benefit of the storm was the abundant rainfall, something much of the state hadn't experienced since late summer. While November precipitation totals will be below average, joining September and October in that department, this storm "rescued" NJ from what might have been an exceedingly dry month. While 90-day deficits remain substantial, the storm, at least temporarily, put the brakes on encroaching drought conditions. For example, a Franklin Township (Somerset) station received just 2.98" from September 4 – November 25 (83 days) before collecting 2.82" from this storm. With conditions having been so dry, the heavy rain failed to bring streams over their banks and even kept most basement sump pumps quiet.
Amongst over 250 storm reports from NJ CoCoRaHS observers and automated NJWxNet stations, Cedar Grove (Essex County) received the most rainfall, with 3.60". Florham Park (Morris) and Little Falls (Passaic), both with 3.57", were close behind. Over two-dozen locations received at least 3.00" and close to 100 were between 2.00"-2.99". The heaviest rain fell in a swath from the southwest to northeast corners of the state, with somewhat less to the northwest and along the coast. Still, the lowest totals exceeded an inch, with the smallest total of 1.24" at Sea Isle City (Cape May), with Wildwood Crest (1.31") and Upper Township (1.47") in Cape May County coming in as the next "driest" locations.
In addition to the rain, which as previously mentioned froze on contact with some surfaces in the northwest early on, there was a bit of snow at the beginning of the event, totaling no more than a few tenths of an inch at higher elevations. Snow also fell at the tail end of the storm, though only accumulating at elevations above 750-1000 feet. This included 1.3" at the High Point Ranger Station (Sussex; 1500' elevation), 0.8" at Wantage (Sussex), and 0.5" and 0.2", respectively, in the Hunterdon County townships of Bethlehem and Holland.
Temperatures throughout most NJ soared into the 50s and low 60s as the storm passed over NJ, with four stations making it to 64° in the pre-dawn hours of the 27th. In the northwest, High Point Monument (Sussex) only reached 47°, while cold air remained trapped in some valleys, resulting in Walpack (Sussex) never making it above 40° and Hope (Warren) above 42°.
The barometer fell to 29.40"-29.50", contributing to winds that gusted over 30 mph in exposed areas. This included maximums of 55 mph at Wantage and 48 mph at High Point Monument and Atlantic City Marina (Atlantic).
Without useful climate indicators (for instance an El Nino event) this fall that could assist in projecting what upcoming months may bring in terms of precipitation (the same goes for snowfall and temperature), the wait is on to see what may be in store. For the time being we will just have to be thankful that some welcome rains invaded the state and staved off worsening drought conditions.