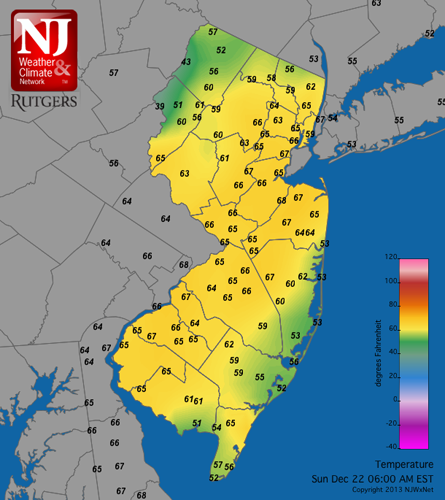 It wasn't just chestnuts that were roasting in New Jersey several days before Christmas this year. In fact it may be that coal noses on rapidly shrinking snowmen were igniting as a snowy spell from the 8th to 18th quickly transitioned to some unusually warm conditions.
Woodbine (Cape May County), Toms River (Ocean), and Berkeley Township (Ocean) shared top honors on Sunday the 22nd when the thermometer topped out at 73°. Maximum temperatures reached from 70° to 72° at 22 of the 55 NJ Weather and Climate Network stations. Only High Point Monument (Sussex), Hope (Warren), and Harvey Cedars (Ocean) managed to stay out of at least the 60s on the 22nd, with all three locations reaching 59°. Daily records were established at a number of long-term observing stations. For instance highs at Newark (Essex) on the 21st and 22nd of 64° and 71° beat former daily records by 3° and 6°, respectively.
Early morning temperatures on the 22nd were in the 60°s at a number of locations, already having established daily records. We have yet to evaluate the full record book, but it may be that low temperatures on the 22nd may be the highest, if not close to the highest on record over the past century at some locations. Some 14 stations failed to fall below 60° to 63°.
Making this warm spell all the more remarkable was the fact that on the morning of the 17th temperatures across the state were as low as -1° in Walpack (Sussex). This location topped out at 64° on the 22nd. Whether you look at the 73° temperature swing within NJ over the course of five days or the 65° difference just at Walpack you can't help but be impressed. And with this, the entire snow-covered central and northern portions of the state reverted to early winter brown...lousy timing when it comes to experiencing a white Christmas (at least a few Christmas Eve snow squalls whitened the ground in some locations).
While this was an impressive several day warm spell, it wasn't the warmest NJ has experienced over the past century. Honors for this goes to early December 1998. It was warm from the 4th-8th, with the 7th being the warmest December day on record. That day, Belleplain State Forest (Cape May) reached 78° and Millville (Cumberland) 77°. Of 29 National Weather Service Cooperative Observing stations with over 50 years of observations, 20 set all-time record December maxes on the 7th of at least 72°. Belleplain saw maximums of 76°, 71°, 73°, 78°, and 72° from the 4th-8th. The most notable warm late December day on record was the 29th in 1984. Toms River (Ocean) and Tuckerton (Ocean) each achieved record December highs of 76° on that date.
The roller coaster temperature ride of this December has resulted in temperatures to date running about a half degree above normal in northern NJ and 1°-2° above in south Jersey (which wasn't chilled by a snow cover as the north was for 11 days). Whether this thermal ride will continue into early 2014 remains to be seen, though there are some indications that this just might be the case.