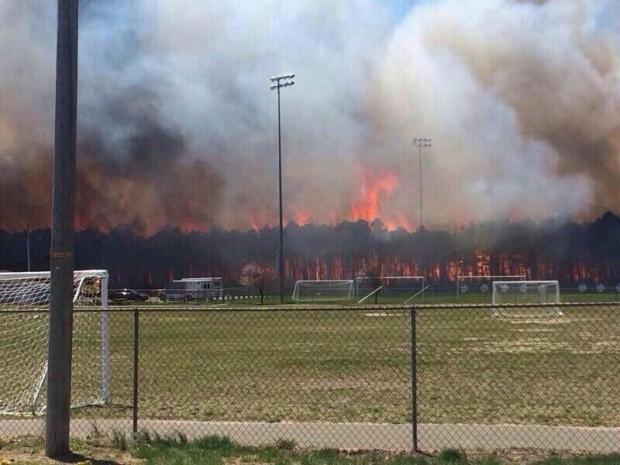 April showers typically bring May flowers, but when they fail to arrive in abundance and bundled with low humidity and gusty winds, wildfires become a major risk.
Just such a scenario unfolded across New Jersey experienced on Thursday April 24. Low dew points, combined with winds gusting over 30 mph, prompted the National Weather Service to issue Red Flag warnings across nearly all of the state both Wednesday and Thursday. Such warnings indicate a high risk for wildfires in wooded areas and grasslands. Unfortunately, fires did erupt in scattered locations around the state, with several large wildfires in Ocean and Cumberland counties.
Residents along the northern border of Berkeley Township (Ocean County) are no stranger to wildfires; residents witnessed a large fire in 2002. Many of those same residents were evacuated Thursday, as the 300-plus-acre fire roared through the brush and forest. This came a few weeks after a 1500-acre fire ripped through portions of the Pine Barrens in Burlington County.
Fire conditions are typically set up by a gusty westerly wind. The wind ushers in dry air and, with the lack of significant precipitation over the past few weeks, conditions were ripe for wildfires to develop and spread with a small spark or ember. The Ocean County fire lofted enough smoke over the NJ Weather and Climate Network station in Berkeley Township (12 miles from the fire) that for several intervals the amount of sunlight reaching the solar radiometer (as seen in the figure below) was reduced. Below that is a radar map showing the large smoke plume.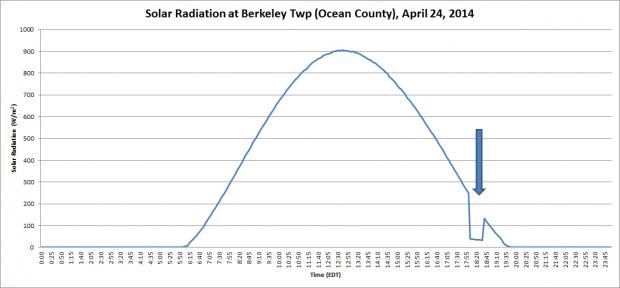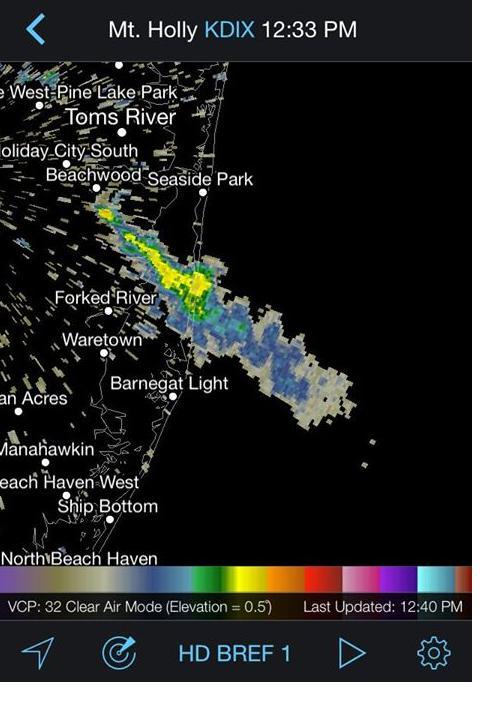 Fortunately, to our knowledge there have been no major injuries or damage to structures. Friday continued the dry spell but winds slackened and some moisture air began to move into the state. Rainfall is also anticipated for Friday night and perhaps later on Saturday, with next week also likely to see more rain.