Overview
The first month of 2015 was a cold one with above-average precipitation. The form of the precipitation varied quite a bit at any particular location as well as across the state over the course of individual events. The statewide average temperature of 27.7° was 3.5° below normal, making it the 32nd coldest January since records commenced in 1895. Precipitation (rain and melted snow) averaged 4.78", which is 1.30" above normal and ranks as the 20th wettest January. Statewide, snowfall averaged 8.6", which is 1.5" above normal and ranks as the 41st snowiest January of the past 121 years. Storms of various intensities arrived every three days throughout the month, and included an impactful freezing rain and flooding event and two moderate snowstorms during the final two weeks. Several bitter cold episodes were punctuated by strong winds and frigid wind chills.
Precipitation and storms
As has so often been the case over the past year, the central and northern coast region was the wettest portion of NJ in January, while the northwest was driest. Belmar (Monmouth County) took top honors with 6.15" of rain and melted snow. This was followed by 6.15" in Lavallette (Ocean), Fair Haven (Monmouth) 6.11", Brick Township (Ocean) 6.08", and Lacey Township (Ocean) 6.06". Montague (Sussex) was driest with 2.74", with Blairstown (Warren) at 2.80", Wantage (Sussex) 2.99", Pennsville (Salem) 3.05", and Lebanon (Hunterdon) 3.31".
There was a wide range of snowfall totals across NJ, with northern counties averaging 14.0", which is 4.8" above normal, central counties 11.5" or 3.8" above normal, and southern counties 4.3", which is 1.4" below normal. Bethlehem Township (Hunterdon) was snowiest at 17.9", with Rockaway (Morris) at 17.5", Montague (Sussex) 17.1", Jefferson Township (Morris) 16.7", and Mine Hill (Morris) 16.1". Middle Township (Cape May) only received 2.0", Woodstown (Salem) 2.1", Pennsville (Salem) and Collingswood (Camden) 3.2", and Estell Manor (Atlantic) 3.4".
The first storm of the month began with some snow and sleet in the north, but otherwise was a rain event from early on the 3rd into the evening of the 4th. Toward the end of the event a squall line resulted in the issuance of severe thunderstorm warnings in the far south, with tree damage from strong winds reported in Cumberland and Cape May counties. Almost all of NJ saw more than 0.75" of rain and melted snow, with the lowest amounts in the southwest and northwest, and the most along the coast, not the last time this would be seen during January. Some 128 of the 209 Community Collaborative Rain, Hail and Snow Network stations reported received over 1.00" of rain and melted snow. Snow and sleet amounted to 2.0" in Wantage (Sussex) and was less than 2.0" over the northern half of the state, with little or none further south. Lavallette received 1.91" of rain, Middletown (Monmouth) 1.77", with 1.61" in both Ocean Township (Monmouth) and Brick Township.
The first of two south Jersey light snow events of the month occurred on the 6th. The early morning to evening hours brought 1"-2" of snow to the southern third of the state, with an inch or less in central and northern reaches. Millville (Cumberland) received 2.5", Pitman (Gloucester) and Mays Landing (Atlantic) 2.3", Dennisville (Cape May) 2.2", and Pittsgrove (Salem) 2.1". Snow melted down to under 0.20" everywhere.
On the 9th, light snow accumulated to 1.4" in Kenilworth (Union), 1.3" in Tenafly (Bergen), and 1.2" in Howell (Monmouth). Continuing the-every-third-day storm pattern, the 12th saw a few tenths of an inch of light snow and some freezing rain and drizzle in the north transition to a statewide daytime light to moderate rainfall. The southwest received the most, with 1.17" falling in Pittsgrove, 1.16" in Franklin Township (Gloucester), and 1.10" at Upper Deerfield (Cumberland). The northern half of the state caught 0.25"–0.50".
The only six-day respite from storms was centered on the 15th. However, come the 18th, the patterned resumed, with the heaviest precipitation event of the month. Rainfall began around daybreak with temperatures below freezing generally along and to the northwest of the NJ Turnpike. This resulted in rapid icing of roadways in the southwest, much of central and all of northern NJ. Hundreds of motor vehicle accidents and countless slip and falls occurred that Sunday morning, which, while a tragic situation, likely would have been even worse had it occurred during a weekday rush hour. As the morning progressed, much of the state exceeded the freezing mark, thus major icing of trees and power lines failed to occur. As much as 2.30" of rain fell in Madison (Morris), Franklin Township (Somerset) saw 2.29", Middle Township 2.28", Cranbury (Middlesex) 2.23", and Washington Township (Gloucester) 2.23". Some 30 CoCoRaHS stations caught at least 2.00", 156 stations had between 1.00"–1.99", with the least that ranged from 0.60"–0.99" falling at nine stations in the northwest. Scattered heavy evening fog followed over ground that remained frozen. The frozen ground also contributed to rapid runoff and some stream and river flooding, including the Millstone River (Somerset).
The afternoon of the 21st brought 1"–2" of snow south of I-195, with less than a half inch to the northern half of NJ. Bridgeton (Cumberland) received 3.3", Seaville and Woodbine both in Cape May County 3.0", Estell Manor 2.9", Waretown and Ocean Township, both in Ocean County 2.7", and Pittsgrove 2.5". Snow melted down to 0.15"–0.25" at most.
The first rather widespread plowable snowfall event since the Thanksgiving eve storm impacted northern and central areas from late evening on the 23rd through midday on the 24th. North of I-78 5"–8" fell, from I-78 south to just below I-195 2"–6" was measured, and little snow fell south of there. Table 1 shows the top snowfall total in each county where 5.0" or more fell. Topping the list is Highland Lakes (Sussex) at 9.0". This storm also brought heavy rain to the south. Estell Manor totaled 1.77", two Woodbine stations received 1.68" and 1.70", and Egg Harbor Township (Atlantic) had 1.68". Melted snow was in the 0.50" to 1.00" range.
| | | |
| --- | --- | --- |
| County | Community | Snowfall |
| Bergen | Westwood | 8.0" |
| Essex | Cedar Grove | 6.0" |
| Hudson | Harrison | 5.0" |
| Hunterdon | Clinton | 6.8" |
| Mercer | Ewing Twp. | 5.9" |
| Middlesex | 4 communities | 5.0" |
| Morris | Jefferson Twp. | 8.3" |
| Passaic | West Milford | 8.5" |
| Somerset | Montgomery Twp. | 6.0" |
| Sussex | Highland Lakes | 9.0" |
| Union | Roselle Park | 5.7" |
| Warren | Liberty Twp. | 7.7" |
Table 1. Highest snowfall recorded during the January 23rd–24th storm in counties where at least one location measured 5" or more.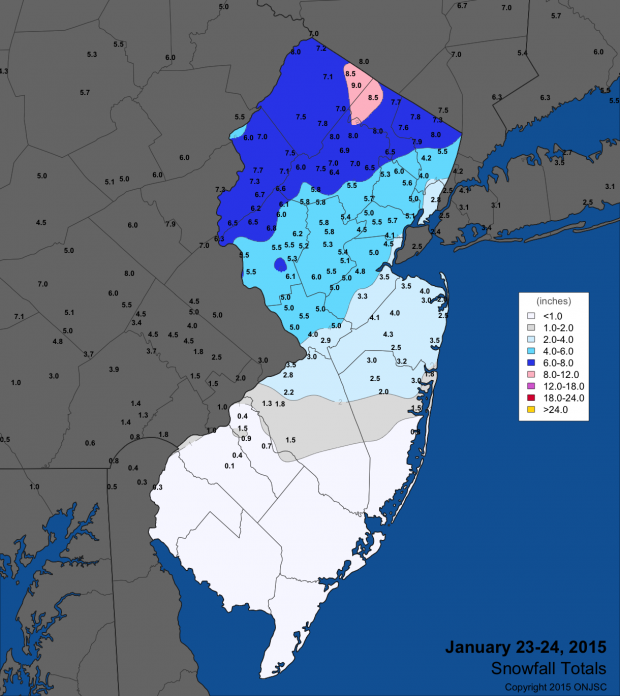 Figure 1. January 23rd–24th snowfall totals from National Weather Service (NWS) Cooperative observers and spotters, and CoCoRaHS volunteers. For larger view, click here.
Light to moderate snow fell from the pre-dawn hours of the 26th through midday on the 27th. During this period, New Jersey was on the western fringe of a major nor'easter that dumped multiple feet of snow on portions of Long Island and southeastern New England. The heaviest snow in the state fell along central and northern near coastal areas and in extreme eastern north Jersey, including 9.3" in Lavallette, 9.2" in Long Branch (Monmouth), and 8.3" in North Bergen (Hudson). Table 2 shows the top snowfall total in each county where 5.0" or more fell. Snow to melted precipitation ratios were between 10:1 and 15:1 for this event, with totals as high as 1.23" in Lacey Township (Ocean), 1.07" in Lavallette, and 1.03" at Wall Township (Monmouth).
| | | |
| --- | --- | --- |
| County | Community | Snowfall |
| Bergen | Rutherford | 6.0" |
| Essex | Bloomfield | 6.8" |
| Hudson | North Bergen | 8.3" |
| Hunterdon | Bethlehem Twp. | 6.1" |
| Mercer | Hopewell | 6.0" |
| Middlesex | Cheesequake | 7.4" |
| Monmouth | Long Branch | 9.2" |
| Morris | Madison | 5.0" |
| Ocean | Lavallette | 9.3" |
| Passaic | West Milford | 5.5" |
| Somerset | Bridgewater Twp and Hillsborough Twp | 5.0" |
| Sussex | Sussex | 5.1" |
| Union | Elizabeth | 6.4" |
Table 2. Highest snowfall recorded during the January 26th–27th storm in counties where at least one location measured 5" or more.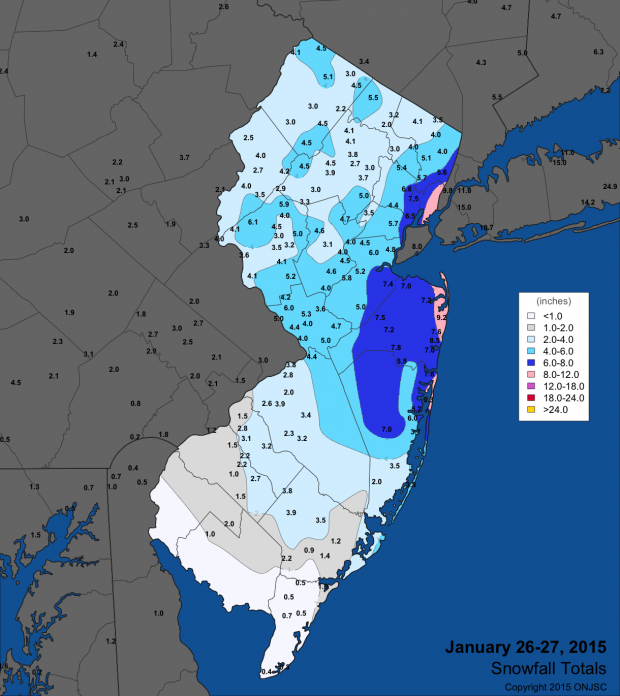 Figure 2. January 26th–27th snowfall totals from National Weather Service (NWS) Cooperative observers and spotters, and CoCoRaHS volunteers. For larger view, click here.
An episode of light snow occurred from the evening of the 29th into the morning of the 30th over central and northern NJ. Wantage received 2.3", Jefferson Township 2.1", and Highland Lakes 2.0".
January was a windy month. On an impressive 15 days gusts equaled or exceeded 40 mph. As usual, High Point Monument (Sussex) atop the Kittatinny Ridge and Wantage on the immediate eastern flank of the ridge often were the windiest locations in the NJWxNet. Coastal locations were next most common for strong winds. On the 4th, a squall line brought a 54 mph gust to Woodbine. High Point Monument reached 48 mph, Parsippany (Morris) 45 mph, West Cape May (Cape May) 43 mph, and Wantage 42 mph. High Point Monument hit 54 mph on the 5th, with Upper Deerfield at 44 mph, Wantage at 43 mph, and four other stations gusting to 40 mph. Some 24 stations had peak gusts between 30–39 mph. The 7th was even windier, with 33 stations gusting between 30–39 mph, five from 40–42 mph, Bivalve (Cumberland) to 45 mph and High Point Monument to 56 mph. West Cape May peaked at 43 mph on the 8th, High Point Monument to 47 mph, and Bivalve to 42 mph on the 9th.
Calmer conditions prevailed until the 16th when High Point Monument got to 50 mph and the next day to 42 mph. The last week of the month was quite windy. The Monument got to 44 mph on the 24th and 42 mph on the 25th. Sea Girt (Monmouth) reached 43 mph and Harvey Cedars (Ocean) 41 mph on the 26th. Wantage gusted to 54 mph on the 27th, with the Monument at 45 mph, while they reversed rankings with 42 mph and 49 mph on the 28th. The 30th gave the 8th a run for the windiest day of January. High Point Monument peaked at 55 mph, Oswego Lake (Burlington) at 48 mph, nine stations between 40–46 mph, and 26 between 30–39 mph. The peak gust of the month was 61 mph at the Monument on the 31st, when Wantage reached 55 mph. Five other stations topped out between 40–43 mph.
The highest barometric pressure of January was achieved on the 11th when most of the state was near 30.70". The lowest pressures occurred on the 24th, and were between 29.25"–29.30"
Temperature
There was only one unseasonably mild day in January. On only five days did any of the 55 NJ Weather and Climate Network stations reach a daily maximum of at least 50°. Six other days saw stations get to between 45°–49°. West Cape May hit 45° on the 1st, followed by Cape May Courthouse (Cape May) and Woodbine at 47° on the 2nd. Atlantic City Marina (Atlantic) got to 54° on the 3rd, when Cape May Courthouse and West Cape May reached 53° and 20 other stations equaled or exceeded 45°. The 4th was by far the warmest January day. Cape May Courthouse and Woodbine each soared to 67° and Piney Hollow (Gloucester) reached 65°. Some 22 other stations were between 60°–64° and 22 got to 50°–59°. High Point Monument was coolest at 44°. This mild spell ended with Dennis (Cape May) and Woodbine hitting 52° on the 5th.
A week later, Cape May Courthouse got to 47° and Atlantic City Marina 45° on the 12th. The 16th saw Mansfield (Burlington) get to 46° and Dennis (Cape May) reach 45°. Harvey Cedars got to 51° and three stations to 50° on the 18th. Mansfield and Woodbine were 47° on the 19th, with this mark reached at four south Jersey stations on the 20th. Finally, on the 25th, Greenwich (Cumberland) and Woodbine got to 51°.
Cold air was in abundance on many a January day, particularly at the highest elevations such as High Point Monument and in northern valley locations such as Walpack (Sussex). On 21 days one or more stations in NJ dropped below 10°. High Point Monument was one of those on 18 days and Walpack on 17 days. Looking at the 13 days with lows of 3° or colder, the list begins with Walpack at 3° on the 1st, when Pequest (Warren) was next coldest at 7°. These stations were, respectively, 2° and 3° on the 6th. High Point Monument fell to -3° and High Point (Sussex) -2° on the 7th. This was the second coldest day of the month, with 35 stations between -3° and 9°, and West Cape May least cold at 16°. The 8th took low honors for the month, with Walpack at -5°, High Point Monument -4°, and 47 stations under 10°. West Cape May only got to 14°.
Pequest and Walpack both fell to 1° on the 10th and 11th. Walpack was 0° and the two High Point stations 1° on the 13th. Walpack and the High point stations were, respectively, -1° and 0° on the 14th. The 17th saw Walpack down to -1° and Hackettstown (Warren) 0°. Walpack reached -1° on the 23rd, while the next coldest location was Pequest at 11°. This further demonstrates how Walpack is a special location when it comes to radiative cooling and cold air drainage. Walpack and Pequest were back at it on the 28th with -1° and 2°, respectively. The coldest morning of the month for the northwest corned of the state was the 29th, the cold likely enhanced by snow cover, while in the south the lack of snow contributed to a low of 22° in West Cape May. Walpack dropped to -13° and Pequest -7°, with four other stations at -2°. The 31st found Walpack at 0° and High Point Monument 1°.
At times, it wasn't just the cold as read on the thermometer but also the wind chill. No period better illustrated this than the 7th–8th. At 6:45 PM on the 7th High Point Monument was 0° with a 31 mph wind, resulting in a -26° wind chill. Seaside Heights (Ocean) was 8° at 2:50 AM on the 8th with a 24 mph wind, thus a -13° wind chill. This value was equaled at Sea Girt at 10:40 PM on the 7th with a 37 mph wind and 11° air temperature.