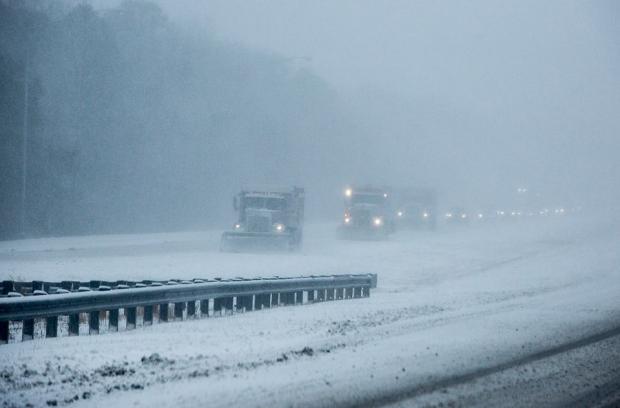 A fleet of plows on Interstate 195 early on the morning of February 15, 2015. (Photo Credit: Andrew Mills | NJ Advance Media)
As New Jerseyans shiver through a second month of below-average temperatures and a second consecutive colder-than-average winter, it is worth seeing how the state is doing in the snowfall department this season. The brief answer is twofold: first, nowhere is it nearly as snowy as last winter, and second, this year is a tale of a state with a split snow personality.
By this time last winter, folks were talking about challenging the 1995-96 winter for top snowfall honors dating all the way back to 1895. As it turned out, the bulk of winter snow had fallen north of Interstate 195 by mid- to late-February, while south Jersey experienced a snowy March. Statewide, the 2013-14 winter snowfall averaged 54.3", which was 28.2" above normal and ranked as the 7th snowiest on record. It was the 4th snowiest on record in northern counties, 6th in central NJ, and 14th in the southern third.
Following this past weekend's modest wind-whipped snowfall, the statewide season-to-date total is 15.8". This is several inches below average for the season through mid-February. The north has averaged 29.6", or about a half foot above average, the central region has averaged 18.3", which is one or two inches above average, while the south average of 7.2" is about a half foot below average.
Aside from the Thanksgiving eve storm in central and northern areas, the bulk of the snow has fallen during the past three weeks. This has left the north with an 8-12" of snow pack, central areas 2-8", and little to none (prior to the latest snow) in the south. Snowfall never comes evenly dispersed throughout a winter season, and cold and storm threats remain on the horizon. Thus we will see if this winter can play some catch up with last year and whether south Jersey will pull a late season run like 2014 to surpass its average total.