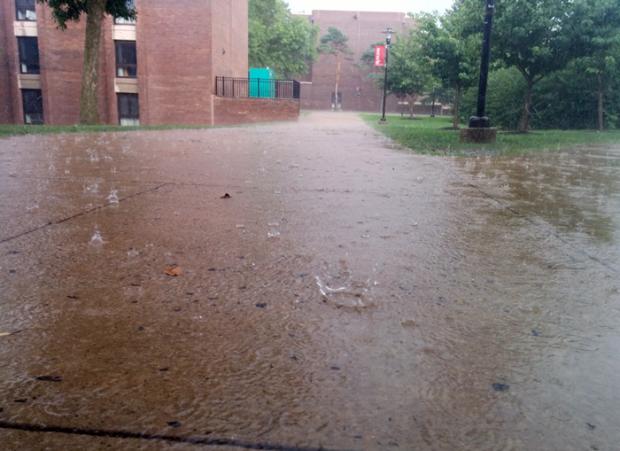 Heavy rain falling at Rutgers' Livingston Campus in Piscataway on July 15. (Credit: Dan Zarrow, ONJSC)
The past week has seen localized soaking rains across much of NJ, though not everywhere has gotten clobbered. The map below shows rainfall totals from Sunday morning the 13th through the morning of the 16th. Over this roughly 72 hour interval, as much as 8.52" fell in Howell Township (Monmouth County), followed by Belmar (Monmouth) with 7.42", Wall Township (Ocean) 7.22", Millstone Township (Monmouth) 5.98", and Raritan (Somerset) 5.42". To demonstrate the local variability of the precipitation, four Bridgewater (Somerset) locations received 5.09", 4.55", 4.41" and 3.88". Differences were even more pronounced over distances of several tens of miles. For instance, only 20 miles from Howell, rainfall totaled just 0.89" at Seaside Heights (Ocean) to the south and 2.42" in Rumson (Monmouth) to the north.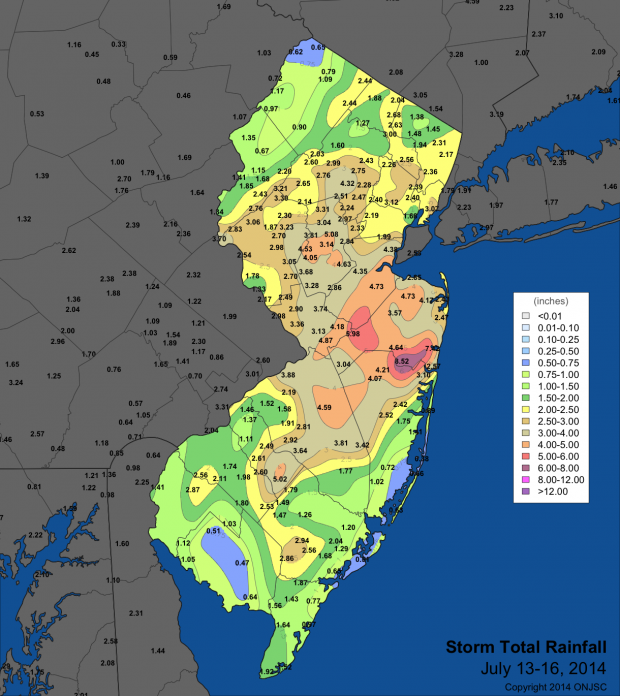 Rainfall totals for July 13-July 17, 2014.
Portions of south and far northwest NJ missed out on most of the storms. Two stations in Upper Deerfield (Cumberland) only caught 0.45" and 0.63", while Millville (Cumberland) and Atlantic City Marina (Atlantic) both received 0.47", Seabrook Farms (Cumberland) and Atlantic City Airport in Pomona (Atlantic) 0.51", High Point (Sussex) 0.55", and Wantage (Sussex) 0.61". Observations from 320 stations went into this analysis, including those from the NJ CoCoRaHS, NJWxNet, NWS, USGS, and RAWS networks.
A flow of warm southerly air delivered the moisture needed for the heavy showers, while daytime heating and an approaching frontal system helped to generate the clouds and rain. Some severe lightning, localized strong winds, and street and small stream flooding accompanied the rain at times.
With two weeks remaining in July, the statewide average rainfall is 4.24", based on several dozen stations with multi-decadal records. This is very close to the 1981-2010 full-month average of 4.52". Along with the heavy rains of the past week, storms deposited localize heavy rains on the 2nd, 3rd and 10th. The wettest locations for the month to date are Howell with 9.35", Belmar 8.38", and Millstone 8.14". Two stations in Upper Deerfield sit at 0.92" and 1.43", with 1.62" all that has yet been mustered at Pittsgrove (Salem).
While disruptive and dangerous at times, the rains have benefited crops, gardens, and lawns. Also, for the most part, they have avoided weekend and holidays extending back to Memorial Day.