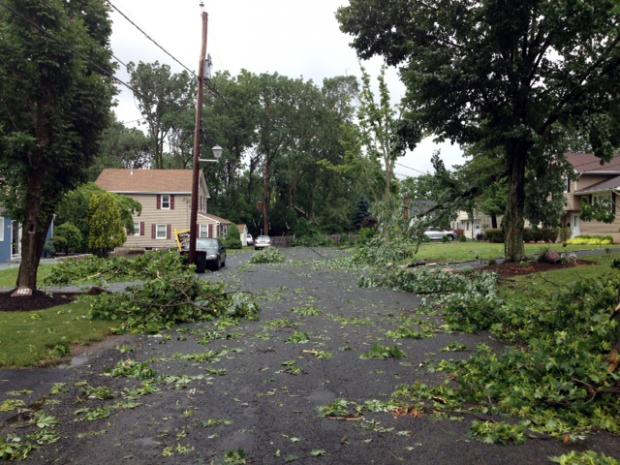 Mary Borsos walked toward her backdoor the morning of July 1 in Berkeley Heights (Union County) and noticed the rain falling in heavy sheets. "It didn't seem like anything unusual due to all the rain and thunderstorms we've had these past couple weeks."
However, she quickly noticed the wind pick up, and took her three grandchildren a couple steps into the dining room away from windows. Within those couple steps, she heard trees begin to snap and branches pound the house. In what she described as "no more than two minutes", Borsos' yard was littered with downed trees, snapped power lines, and scattered outdoor furniture. Little did Borsos and many know, three towns encountered their first ever documented tornado.
The National Weather Service (NWS) investigated during the afternoon of July 1 to identify if it was a tornado or straight-line winds. Later that night, approximately 12 hours after the event, the NWS confirmed that it was indeed a tornado. The EF-0 tornado on the Enhanced Fujita Scale swept a 4.8 mile long path in northwestern Union County from 9:17am to 9:25am. The 50-yard wide storm packed maximum winds of 85 mph. Touching down near Garfield Street in Berkeley Heights, the storm moved northeast through New Providence and finally lifted near Evergreen Road in Summit. The tornado caused mainly tree damage and some property damage due to fallen trees.
There were no injuries or fatalities reported in Union County's first tornado since two occurred on September 7, 1998 in Clark and North Plainfield. Borsos couldn't believe how much damage the tornado did compared to how quickly it moved on. Under 200 feet away, two houses to the west of the Borsos, looked untouched as if their lawn had just been landscaped. Mary's husband Mike wasn't home at the time, but surveyed the damage upon his return. "We've been here since 1964. This ranks closely behind Sandy for us."
The tornado was a part of a strong cell within a larger system that moved northeast from Hunterdon County to Bergen County around mid-morning July 1. The storm brought heavy rainfall to central and northern New Jersey. The highest totals for July 1 include 2.50" in Readington Township (Hunterdon), 2.41" in Franklin Township (Hunterdon), 2.40" Lebanon (Hunterdon), and 2.34" at Frenchtown (Hunterdon). In Readington, a CoCoRaHS observer totaled 2.35 inches of rain in 35 minutes, a rainfall rate of approximately 4" per hour. Other locations, including Randolph Township (Morris), Bridgewater Township (Somerset), and Frenchtown (Hunterdon) recorded rainfall rates of 3" per hour.
The rainy and humid weather clearly didn't end with the conclusion of a wet and record-breaking June, as July welcomed many with a bang. With a chance of showers remaining in the near future, we may have another above-normal month for New Jersey on the table.